Evaporative type humidifier VHR Type
[Evaporative type humidifier to be built into A/C unit and total heat exchanger]
Supply water quality: Pure water which does not contain fungi (0.1mS/m)
The VHR type is an evaporative type humidifier, mounted to an A/C unit or a total heat exchanger to supply pure water, and generate humidity by the passage of air flow.A feature of this system is that it greatly reduces the deposits of evaporation residue by supplying pure water, to greatly extend the life of the humidification module and the maintenance cycle. For this reason, this system is effective for year-round air conditioning in factories and etc. where the operation of the A/C unit cannot be stopped.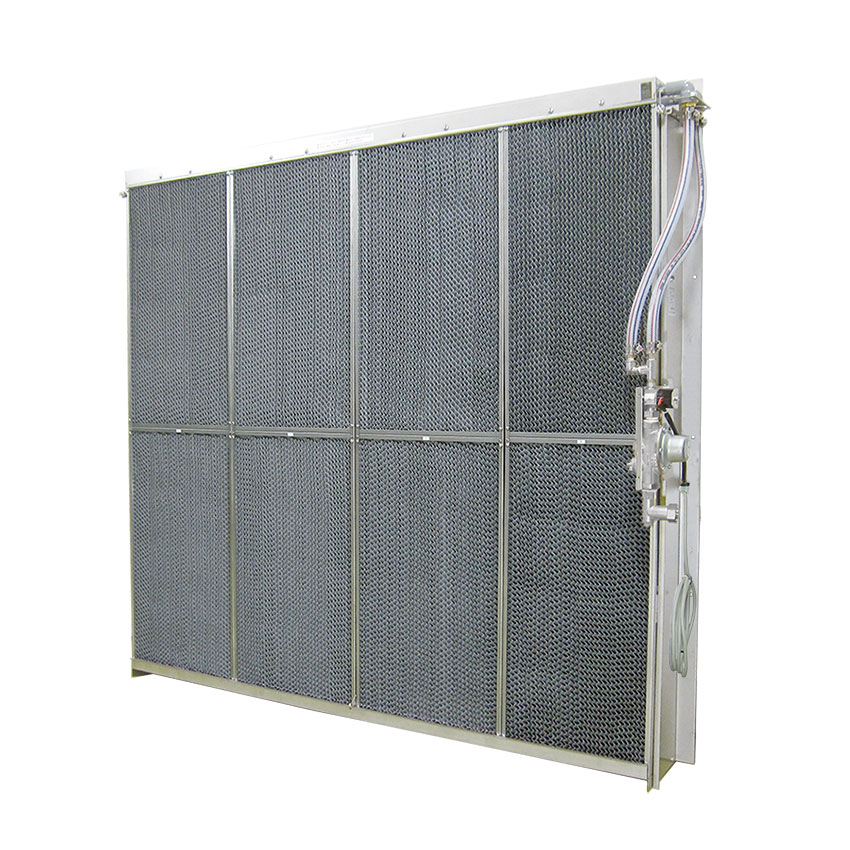 Features
The following specifications are available for the VHR type according to the application.
Step control specification, that is effective when the change in the required saturation rate is large, or when performing a mutual drying operation of the humidification module.
Proportional control system which controls the dew-point of the air after humidification to a constant temperature even with changes in the ambient temperature and humidity, by building various configurations, such as arranging both the evaporative type humidifier VHR type and heating coils, or adding a number of systems.
Chemical gas removal specification which removes the water-soluble gaseous contaminants included in the air which passes through the humidifier.
Humidification modules are available with different depths for different saturation efficiencies, which can be selected according to the capacity. As an option, high saturation efficiency specifications are available for cases where the saturation efficiency is 80% or more.
Specifications
Type

Evaporative type humidifier; WM-VHR type

Vaporizing module type(WM-)

VHR260V

Applicable saturation efficiency(%)
91-95
Rated voltage
Single phase AC200V 50/60Hz
Rated power consumption(W)
15
Water supply quality
Ambient working
conditions
Humidifier unit: 5-60deg.C
Water supply unit: 5-50deg.C (freezing prohibited), 90%RH or less
Wind velocity
at the installation surface
3.75m/s or less (Wind velocity may be lower depending on use condition and humidifier size.)
Supply water quality
Pure water (more pure than 0.1mS/m) that doesn't contain any fungi
Supply water pressure &
temperature

0.08-0.75MPa, 5-40deg.C (subject to change)
※ Contents of this page are intended to use our product outside Japan. For use in Japan, contact our International Sales team (y-nakayama@wetmaster.co.jp).
Contact Information