Evaporative type humidifiers VFB Type
[Single operation/floor type, room direct humidifier]
This type is suitable for rooms with high sensible heat load, such as data center.
In rooms with high sensible heat load, such as in communication rooms, computer rooms, electronic device plants, it is possible to use the generated heat to vaporize water, thus reducing the air-cooling load and saving energy.
Two models (4kg/h and 8kg/h), which have relatively high humidification capacity as a single operation Evaporative type, are available. This system provides natural and stable humidification according to the air conditions in the room, independent from the system and operation mode of the A/C unit.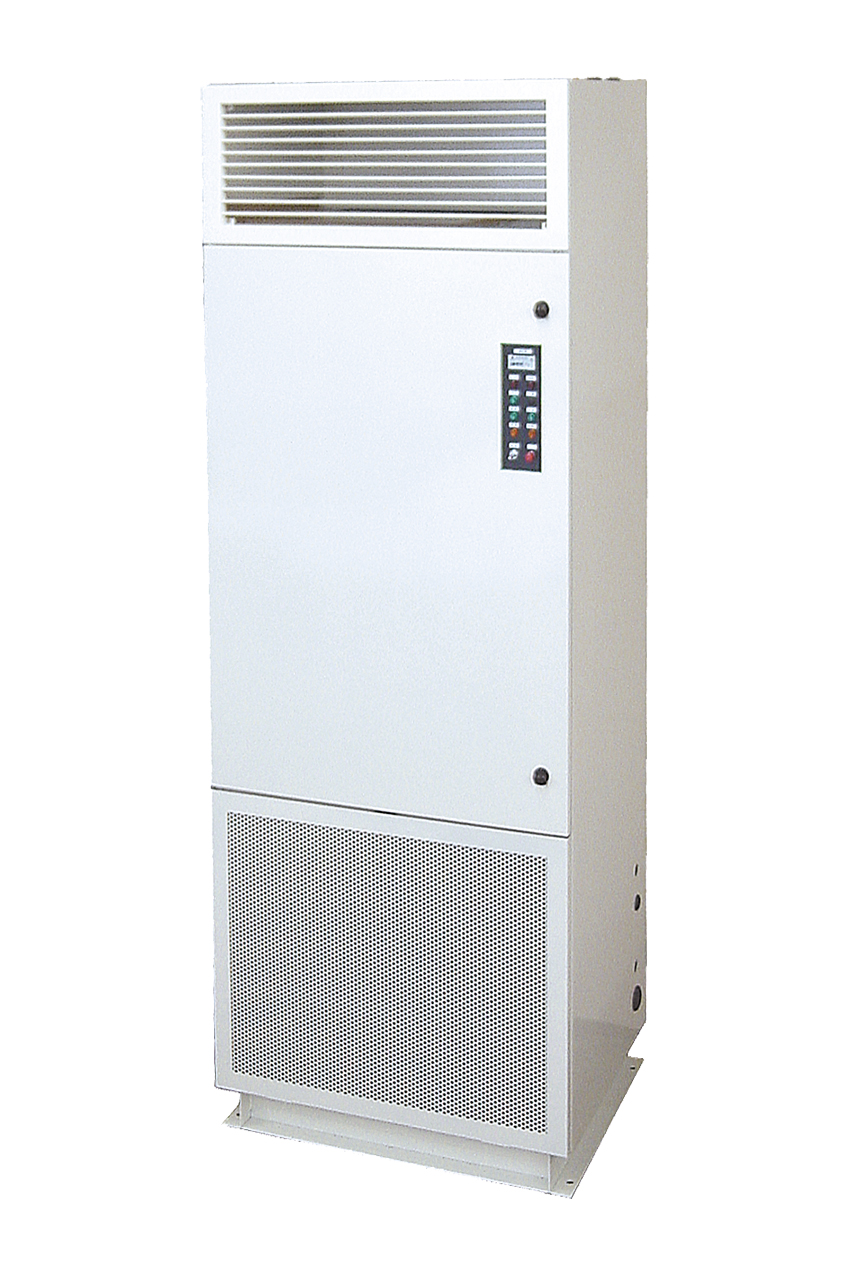 Features
Vaporizing module, drain pan, fan, display panel, pre-filter are packaged together.
Complete maintenance is possible just by opening the front panel.
Since this stand-alone humidifier is slim and compact, the system can be expanded easily according to the change of room environment.
Display panel shows the operation status, such as "Operation," "Humidification," "Alarm", as well as accumulated operation time. Checking of the maintenance cycle is also easy.
Specifications
Type
Evaporative type humidifier; WM-VFB type
Model
WM-VFB4000
WM-VFB8000
Rated capacity(kg/h)
4.0/4.2 (50/60Hz)
8.0/8.4 (50/60Hz)
Rating condition
Air volume(m³/h)

1300/1400

2600/2800

Inlet air

Temperature and humidity:23deg.C/40%RH

Rated voltage
Single phase AC200V 50/60Hz
Rated power consumption (W)
290/420
520/750
Supply water quality
Drinking water or equivalent
※ Contents of this page are intended to use our product outside Japan. For use in Japan, contact our International Sales team (y-nakayama@wetmaster.co.jp).
Contact Information